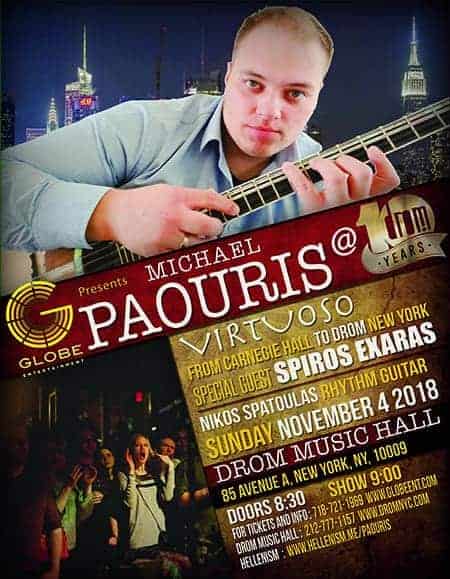 or just get a standing ticket:
He was born in Tavros, a suburb of Athens, Greece.
He began learning the bouzouki when he was 8.
He began playing professionally when he was 12. His next teacher Manolis Michalakis recommends him in the composer G. Katsaros with whom he collaborated for a limited number of concerts.
Simultaneously, he participates in the team of Nikos Danikas in "Stavros tou Notou" and in "Chamam" (2 of the most well known concert halls in Athens).
He participates in competitions of technique and interpretation and he wins the first place at Pan-Hellenic Rewards.
In his 15 Th. Polykandriotis selects him and he collaborates with him in a lot of concerts for 8 years.
He also performed at the "Megaron, The Athens concert hall", in his 18, with a symphony orchestra, M.Theodoraki's pieces. In his 16, he performed live in M. Theodoraki's play " A life, Greece." His teacher Manolis Michalakis, broadened his musical horizons, teaching him moral lessons, the essential love to the music, the way that the natural development comes to the instrument and the essential development of spirit through the music as well.
Special moment is considered to be his attendance in the opening ceremony of Olympic Games "Athens 2004" in the piece of Stavros Xarchakos.
He has been teaching students, professionals etc. from all over Greece, aiming at the even approach of music and the correct bases on technique issues based on material that results from his personal research since 2005.
He has been working as a teacher in the CONSERVATOIRE of ART G.B. FAKANAS since 2010.
Nowadays, he performs with the Michael Paouris' band in music and concert halls all over the world.
In November of 2011 he performed live in Greece with the world wide known guitarist Al Di Meola, receiving great reviews by the media and the audience. A common performance with the two of them had already taken place in France in July of 2011.
At the same day his 1st cd single ¨enarxis¨ and his 1st book ¨my notes…¨ were released.
He is a part of the documentary "Greece, an economic Odyssey" for the CNBC Africa for which he was presented as the brilliant future of Greece.
In December of 2012, he performed Live on stage with The Rosenberg Trio, after his invitation.
In December of 2012 he performs with Al Di Meola and Gonzalo Rubalcaba in Athens, Greece for the 3rd time.
At the same day his 2nd double album ¨Disharmony¨ with famous guests was released.
Guests: Mimis Plessas and Panos Mouzourakis.
He currently cooperates with Fide Koksal, a well known Turkish singer – performer in Greece and Turkey as well. (Jazz Fusion Concert)
He currently cooperates with Eleni Dimou, a well known Greek singer – performer in Greece. (Jazz Fusion Concert)
In September of 2013 he released his third album but the first with Guitar, "The Guitar Project: VIRTUOSO".
In December of 2014 he released his fourth album but the first with Greek folk music (Laika), "ΣΑΝ ΤΟ ΜΠΟΥΖΟΥΚΙ ΜΟΥ" ("Like my Bouzouki").
Guests: Gerasimos Andreatos, Zacharias Karounis, George Christodoulou & Nick Kerkenis.
In 2015 he started a project called REMPETIKO PANTHEON open to the audience with many solos for the folk Bouzouki. This idea is like an unlimited public album. That is his way to honour his culture that comes from the folk-laiko-rempetiko music. His goal is to share his compositions about the folk Bouzouki with the audience via YouTube. You will find the two first solos "REMPETIKO PANTHEON" and "KATO PANO PENA".
In May 2017 he created a unique idea. Called FREE MUSIC 2017. His album "SHARP FLOWERS" with some of the most well known great musicians of the world like Gumbi Ortiz percussions Franck Wolf saxophone and Vaggelis Katsarelis trumpet was released free for all! It was a big idea, a huge project that Inspir@l Studio with Nikos Kritselis helped to become true.
Michael Paouris Team sent the album in many emails receiving great comments for his innovative idea and his performing.
At the same period he was awarded with two other top musicians Petroloukas Chalkias and Stefanos Korkolis as the most inspired artists of their generations by the greatest greek producer Akis Golfidis.
Two weeks after he received "HONORABLE MENTION" for his piece DJANGO'S RAINY HEART in one of the most important competitions of the world the International Songwriting Competition in USA among 16.000 artists from 137 countries.
In September of 2017 he performs in The Odeon of Herodes Atticus. It was a great honor for him to be on stage with the worldwide known composer and pianist soloist Stefanos Korkolis. The concert was organised by the UNESCO Good Will Ambassador Marianna V. Vardinoyannis for the "ELPIDA" Association.
In October of 2018 he will again be on stage with Stefanos Korkolis and Nikola Piovani in The Athens Concert Hall "Megaron".
In April 2018 he was announced "Artist of the Year" in the funk fusion category by the "Akademia Awards".
In November of 2017 and March of 2018 his pieces "Manos" and "For Piazzolla" were announced as the best funk fusion songs. At the same period of time his pieces "Yemen" and "Archangel" were  announced as the best world beat songs.
In May of 2018 he was the winner in eMuse international music competition of classical music after participating with his pieces "Message for Mozart No 1 & 2", "The Waltz of loneliness" and "Nocturnal Angel".